MERMAID THEME
Having a pool party or is your kid just a plain, swimming Mermaid fan?  Then this is the perfect theme for you!
You can hire our complete DIY (do-it-yourself) package or let us set it up and style it for you!  We can also help coordinate your whole party..cake..food..balloons...party bags..just ask when completing your booking request form.
BOOK YOUR PARTY WITH US!
Our Themed parties can book out quickly, so please contact us as soon as possible to reserve your date!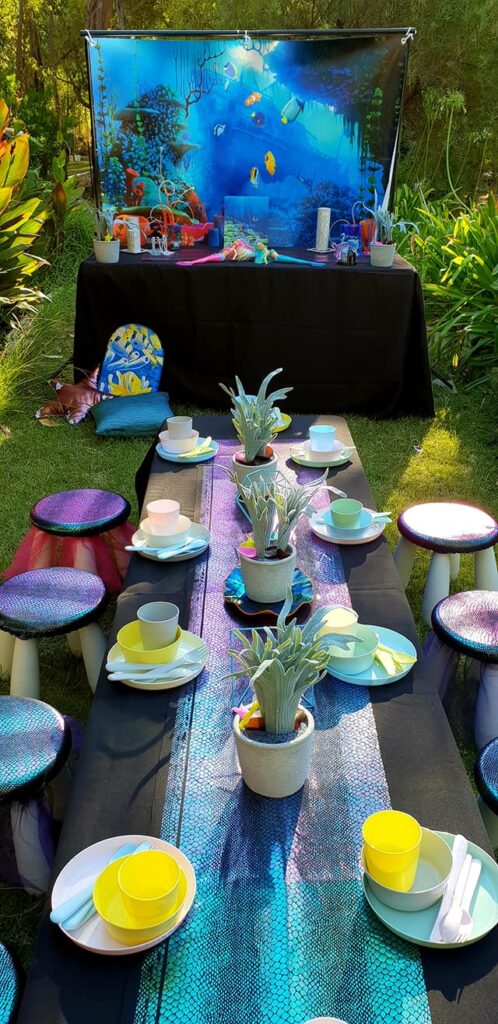 MERMAID PACKAGE
$200 for 10 x Mermaid's
$5 extra for any additional kids
10 x stools
10 x mermaid themed stool covers
5 x tutu skirts for stools
2 x kids height adjustable tables
1 x food/present table
1 x large black table cover for kids table
1 x black table cover for food/present table
2 x mermaid theme table runners
2 x mermaid figurines for table centerpieces
1 x shell display for table centerpiece
2 x wrought iron artwork for table centerpieces
Various jewels, vases, shell coasters, display pieces for table centerpieces
2 x pillows and under the sea body board for display
2 x mermaid plush toys
1 x under the sea backdrop (1.5m x 1m)  
2 x mermaid theme fabric buntings
5 x artificial plants
Mermaid theme hanging decorations 
10 x  pastel coloured plates
10 x pastel coloured bowls
10 x pastel coloured cutlery sets
10 x pastel coloured cups
Additional items available to hire:
Balloon Garland - From $80 per metre
Backdrop Stand $15
Donut Wall $15
Platters - Wood or White
Paper Lanterns $1 per latern
3 x 3m Marquee inc weights $40
Adult Stools $2 each