HAWAIIAN THEME
"Hawaii is not a state of mind, but at state of grace"- Paul Therox
What is there not to love about a Hawaiian themed party!  Tropical getaway ....get the Luau started!
You can hire our complete DIY (do-it-yourself) package or let us set it up and style it for you!  We can also help coordinate your whole party..cake..food..balloons...party bags..just ask when completing your booking request form.
BOOK YOUR PARTY NOW!
Our Themed parties can book out quickly, so please contact us as soon as possible to reserve your date!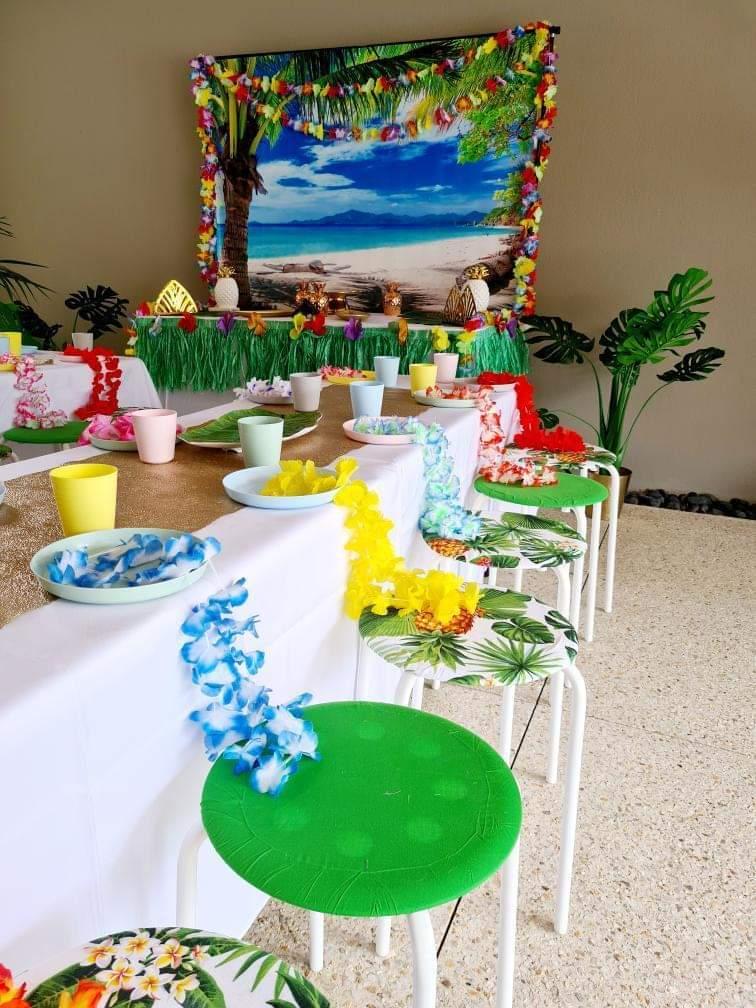 HAWAIIAN PACKAGE
$200 for 10 x people

$5 extra for any additional places *

 (*includes stool, stool cover, plate/bowl,cup,cutlery, balloon)
10 x stools (kids/adults)

10 x Hawaiian themed stool covers
2 x height adjustable tables
1 x food/present table
1 x large white table cover for height adjustable tables
1 x white table cover for food/present table
1 x table runner (Hawaiian print or gold)

1 x Hawaiian table skirt
10 x Hawaiian flower leis
3 x pineapple balloon holders/display pieces
2 x palm leaf platters
2 x gold leaf platters
2 x gold round platters
2 x white/god pineapples
1 x wood carved turtle
1 x Hawaiian beach backdrop (1.5m x 1m)  
2 x Hawaiian theme fabric buntings
2 x artificial plants
Hawaiian hanging decorations 
10 x pastel coloured plates
10 x pastel coloured bowls
10 x pastel coloured cutlery sets
10 x pastel coloured cups
Additional items available to hire:
Balloon Garland - From $80 per metre
Backdrop Stand $15
Donut Wall $15
Platters - Wood or White
Paper Lanterns $1 per latern
3 x 3m Marquee inc weights $40
Additional stools $2 each
Additional stool covers $2 each

WANT TO SEE MORE PHOTOS AND VIDEOS?
Then head to our Facebook or Instagram page and have a scroll!