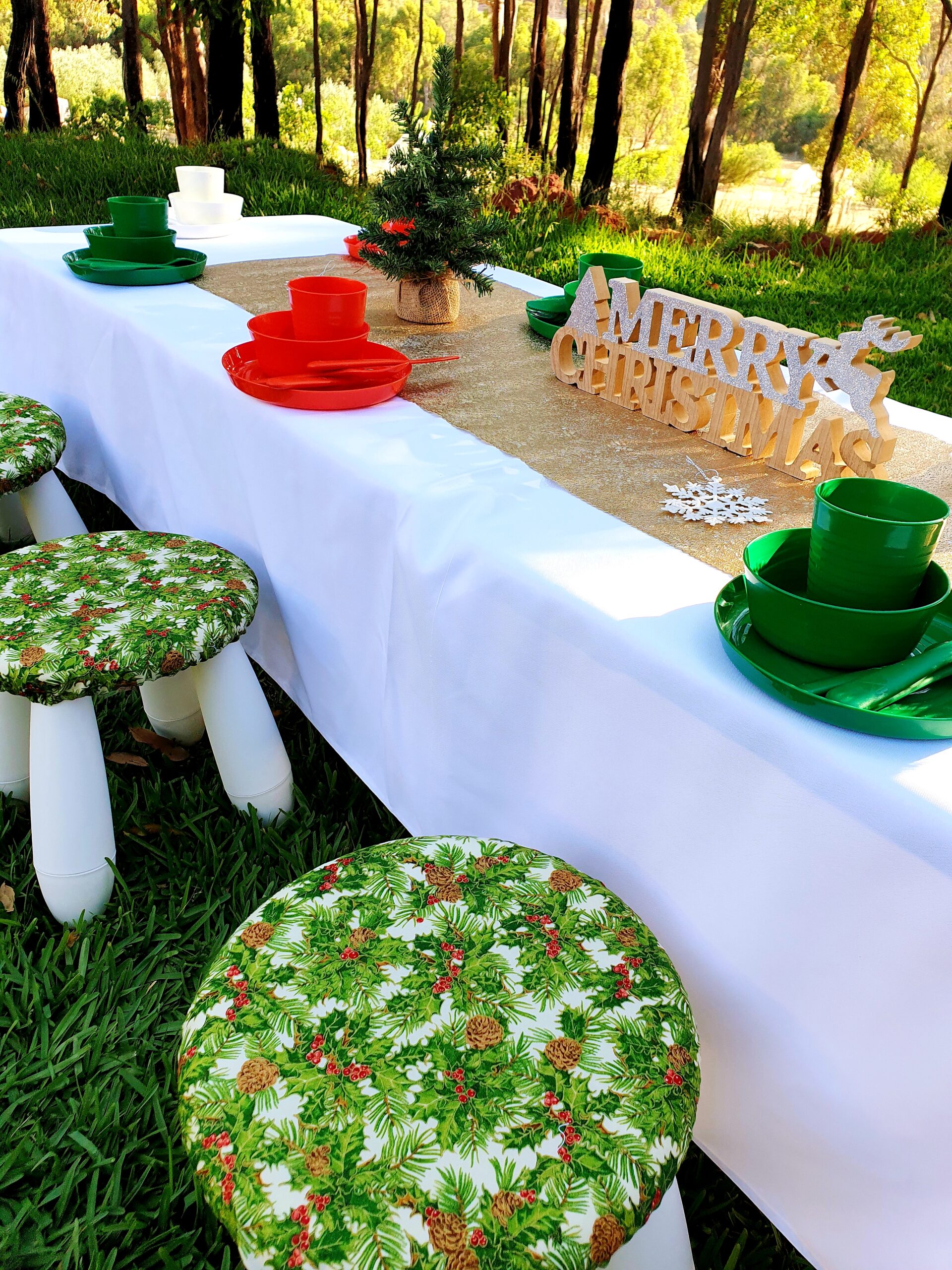 CHRISTMAS THEME!
Here comes Santa Claus, here comes Santa Claus right down Santa Claus Lane........ We have the perfect addition to your next work party, family celebration or daycare/school party! Ho ho ho!
Don't miss your opportunity to book!  These setups will be perfect for park or patio parties to entertain the kids while the adults mingle! Our setups will be at a reduced price as they will feature the kids tables, tablecloths, stools and stool covers only! Leaving you the option of adding your own decorations or purchasing this as an add on! 7 x different stool covers available!
BOOK YOUR PARTY WITH US!
Our Themed parties can book out quickly, so please contact us as soon as possible to reserve your date!
CHRISTMAS DELUXE PACKAGE
NOW ONLY $65 for 10 kids
$5 extra for any additional kids
10 x stools
10 x Christmas themed stool covers - available in Grinch, Santa Claus, Silver stars, Red/White reindeer's, Holly leaf, Green, Red, Silver, Gold
2 x kids height adjustable tables
1 x large table cover for kids table - available in red, silver, white, black
1 x table runner
Christmas table decoration
10 x christmas coloured plates
10 x christmas coloured bowls
10 x christmas coloured cutlery sets
10 x christmas coloured cups
1 x Christmas wash kit
CHRISTMAS BASE PACKAGE
$45 for 10 kids
$5 extra for any additional kids
10 x stools
2 x kids height adjustable tables
1 x large table cover for kids table - available in red, silver, white, black
1 x table runner
Christmas table decoration
10 x christmas coloured plates
10 x christmas coloured bowls
10 x christmas coloured cutlery sets
10 x christmas coloured cups
1 x Christmas wash kit
ADDITIONAL HIRE ITEMS
- Greenery Wall 2mx 2m (great for photo booth) and Xmas selfie sticks $150
-  Crushed Gold backdrop and stand 3m x 2m high $50